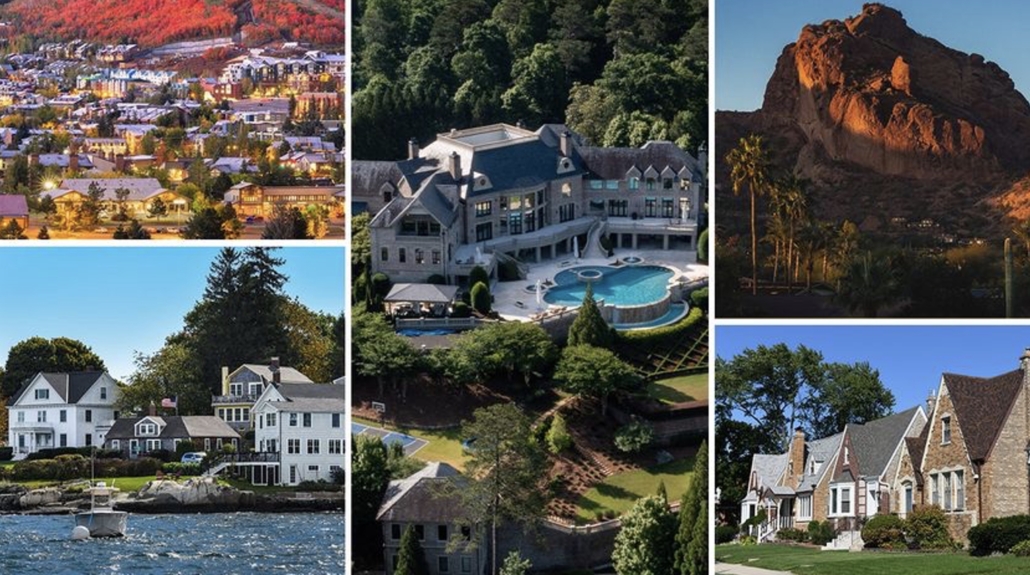 Laps of Luxury: The Priciest Neighborhoods To Buy a Home—State by State
By Evan Wyloge
Nov 14, 2023
There's a quiet but undeniable thrill that comes from browsing photos and taking virtual tours of the most opulent properties in America. It's a hobby less about browsing for a home and more about the fantasy—unless you're in the richest 1% and could easily afford one of these lavish abodes.
But rest assured, there's nothing wrong with poring over photos of luxury homes that you'll buy when you win the Powerball/sell that screenplay you've been working on since high school/launch the next great tech startup. We get it! The data team at Realtor.com® found all of the poshest neighborhoods in the nation for your perusing pleasure.
We found the priciest ZIP code in every state with the highest median home list price in October, excluding areas with fewer than 25 listings. Many are upscale vacation destinations popular with the uber-wealthy.
It's a coast-to-coast tour of extravagance, from breezy Hawaiian beaches and the dramatic shorelines of Maine to the rugged terrain of Colorado's San Juan Mountains and Arizona's sun-baked Sonoran Desert.
So, whether you're in the market for a mansion or only musing, take a tour of some of the most extraordinary real estate in America.
Alabama
Most expensive ZIP code: Arley (35541)
Median list price: $1,050,000Median square footage: 2,888
Most expensive listing: $2,290,000, 5,095-square-foot, 5-bedroom home
Alaska
Most expensive ZIP code: Anchorage (99516)
Median list price: $770,000
Median square footage: 3,007
Most expensive listing: $2,800,000, 3,503-square-foot, 7-bedroom home
Arizona
Most expensive ZIP code: Paradise Valley (85253)
Median list price: $4,856,250
Median square footage: 5,561
Most expensive listing: $75,000,000, 40,000-square-foot, 13-bedroom home
Arkansas
Most expensive ZIP code: Bentonville (72712)
Median list price: $725,000
Median square footage: 2,318
Most expensive listing: $8,000,000, 8,128-square-foot, 5-bedroom home
California
Most expensive ZIP code: Los Angeles (90077)
Median list price: $8,625,000
Median square footage: 5,565
Most expensive listing: $139,000,000, 12-bedroom home
Colorado
Most expensive ZIP code: Mountain Village (81435)
Median list price: $5,525,000
Median square footage: 2,861
Most expensive listing: $34,500,000, 30,018-square-foot, 14-bedroom home
Connecticut
Most expensive ZIP code: Greenwich (06831)
Median list price: $4,511,250
Median square footage: 6,063
Most expensive listing: $39,500,000, 14,296-square-foot, 6-bedroom home
Delaware
Most expensive ZIP code: Bethany Beach (19930)
Median list price: $1,103,500
Median square footage: 1,850
Most expensive listing: $2,990,000, 3,386-square-foot, 5-bedroom home
Florida
Most expensive ZIP code: Coral Gables (33156)
Median list price: $4,175,000
Median square footage: 4,476
Most expensive listing: $69,900,000, 12,159-square-foot, 7-bedroom home
Georgia
Most expensive ZIP code: Atlanta (30327)
Median list price: $2,371,250
Median square footage: 5,567
Most expensive listing: $46,800,000, 17,776-square-foot, 7-bedroom home
Hawaii
Most expensive ZIP code: Kilauea (96754)
Median list price: $4,112,500
Median square footage: 2,429
Most expensive listing: $15,000,000, 7,400-square-foot, 5-bedroom home
Idaho
Most expensive ZIP code: Ketchum (83340)
Median list price: $4,185,000
Median square footage: 3,191
Most expensive listing: $21,250,000, 10,184-square-foot, 6-bedroom home
Illinois
Most expensive ZIP code: Winnetka (60093)
Median list price: $1,650,000
Median square footage: 4,495
Most expensive listing: $8,900,000, 9,673-square-foot, 9-bedroom home
Indiana
Most expensive ZIP code: Zionsville (46077)
Median list price: $724,900
Median square footage: 3,752
Most expensive listing: $4,999,999, 5,508-square-foot, 4-bedroom home
Iowa
Most expensive ZIP code: Clive (50325)
Median list price: $575,482
Median square footage: 1,986
Most expensive listing: $3,750,000, 5,971-square-foot, 6-bedroom home
Kansas
Most expensive ZIP code: Mission Hills (66208)
Median list price: $1,028,750
Median square footage: 3,006
Most expensive listing: $4,950,000, 4,843-square-foot, 5-bedroom home
Kentucky
Most expensive ZIP code: Prospect (40059)
Median list price: $784,700
Median square footage: 3,771
Most expensive listing: $3,550,000, 13,681-square-foot, 5-bedroom home
Louisiana
Most expensive ZIP code: New Orleans (70124)
Median list price: $618,000
Median square footage: 2,612
Most expensive listing: $3,595,000, 6,820-square-foot, 6-bedroom home
Maine
Most expensive ZIP code: Falmouth (04105)
Median list price: $1,149,500
Median square footage: 2,909
Most expensive listing: $7,500,000, 10,849-square-foot, 13-bedroom home
Maryland
Most expensive ZIP code: Bethesda (20817)
Median list price: $2,222,500
Median square footage: 5,068
Most expensive listing: $11,500,000, 15,000-square-foot, 6-bedroom home
Massachusetts
Most expensive ZIP code: Boston (02108)
Median list price: $5,687,500
Median square footage: 3,468
Most expensive listing: $31,000,000, 10,858-square-foot, 5-bedroom home
Michigan
Most expensive ZIP code: Bloomfield Hills (48301)
Median list price: $1,084,750
Median square footage: 3,730
Most expensive listing: $2,950,000, 6,300-square-foot, 4-bedroom home
Minnesota
Most expensive ZIP code: Wayzata (55391)
Median list price: $1,716,000
Median square footage: 3,963
Most expensive listing: $14,750,000, 9,016-square-foot, 5-bedroom home
Mississippi
Most expensive ZIP code: Madison (39110)
Median list price: $525,000
Median square footage: 2,663
Most expensive listing: $2,499,000, 6,260-square-foot, 5-bedroom home
Missouri
Most expensive ZIP code: Saint Louis (63131)
Median list price: $1,498,750
Median square footage: 4,694
Most expensive listing: $4,975,000, 3,046-square-foot, 3-bedroom home
Montana
Most expensive ZIP code: Whitefish (59937)
Median list price: $1,487,000
Median square footage: 2,109
Most expensive listing: $31,500,000, 4,868-square-foot, 3-bedroom home
Nebraska
Most expensive ZIP code: Valley (68064)
Median list price: $910,000
Median square footage: 3,378
Most expensive listing: $2,150,000, 5,578-square-foot, 5-bedroom home
Nevada
Most expensive ZIP code: Incline Village (89451)
Median list price: $2,988,500
Median square footage: 2,695
Most expensive listing: $76,000,000, 14,197-square-foot, 7-bedroom home
New Hampshire
Most expensive ZIP code: Portsmouth (03801)
Median list price: $1,066,725
Median square footage: 1,945
Most expensive listing: $4,900,000, 5,055-square-foot, 5-bedroom condo/townhome/rowhome/co-op
New Jersey
Most expensive ZIP code: Stone Harbor (08247)
Median list price: $4,387,250
Median square footage: 2,797
Most expensive listing: $9,999,000, 3,000-square-foot, 5-bedroom home
New Mexico
Most expensive ZIP code: Santa Fe (87506)
Median list price: $2,156,250
Median square footage: 3,616
Most expensive listing: $14,250,000, 7,764-square-foot, 5-bedroom home
New York
Most expensive ZIP code: Water Mill (11976)
Median list price: $7,995,000
Median square footage: 7,171
Most expensive listing: $59,950,000, 17,173-square-foot, 13-bedroom home
North Carolina
Most expensive ZIP code: Cashiers (28717)
Median list price: $1,958,750
Median square footage: 10,037
Most expensive listing: $9,000,000, 10,037-square-foot, 11-bedroom home
North Dakota
Most expensive ZIP code: Fargo (58104)
Median list price: $439,900
Median square footage: 2,657
Most expensive listing: $2,395,000, 9,778-square-foot, 6-bedroom home
Ohio
Most expensive ZIP code: Moreland Hills (44022)
Median list price: $1,012,450
Median square footage: 4,639
Most expensive listing: $5,900,000, 16,502-square-foot, 5-bedroom home
Oklahoma
Most expensive ZIP code: Tulsa (74137)
Median list price: $677,225
Median square footage: 3,972
Most expensive listing: $4,200,000, 7,703-square-foot, 4-bedroom home
Oregon
Most expensive ZIP code: Bend (97703)
Median list price: $1,237,250
Median square footage: 2,349
Most expensive listing: $4,300,000, 6,330-square-foot, 4-bedroom home
Pennsylvania
Most expensive ZIP code: New Hope (18938)
Median list price: $1,848,750
Median square footage: 3,976
Most expensive listing: $14,500,000, 17,899-square-foot, 7-bedroom home
Rhode Island
Most expensive ZIP code:Jamestown (02835)
Median list price: $1,787,500
Median square footage: 2,688
Most expensive listing: $4,500,000, 5,888-square-foot, 4-bedroom home
South Carolina
Most expensive ZIP code: Sunset (29685)
Median list price: $2,041,093
Median square footage: 4,920
Most expensive listing: $5,939,000, 5-bedroom home
South Dakota
Most expensive ZIP code: Lead (57754)
Median list price: $922,000
Median square footage: 2,724
Most expensive listing: $1,999,900, 5,357-square-foot, 7-bedroom home
Tennessee
Most expensive ZIP code: College Grove (37046)
Median list price: $2,698,476
Median square footage: 5,242
Most expensive listing: $14,000,000, 10,802-square-foot, 5-bedroom home
Texas
Most expensive ZIP code: Dallas (75205)
Median list price: $3,770,000
Median square footage: 4,809
Most expensive listing: $19,500,000, 14,181-square-foot, 6-bedroom home
Utah
Most expensive ZIP code: Park City (84098)
Median list price: $1,881,000
Median square footage: 3,032
Most expensive listing: $32,000,000, 18,409-square-foot, 6-bedroom home
Vermont
Most expensive ZIP code: Stowe (05672)
Median list price: $1,556,000
Median square footage: 3,000
Most expensive listing: $20,000,000, 15,774-square-foot, 6-bedroom home
Virginia
Most expensive ZIP code: Mclean (22101)
Median list price: $3,305,000
Median square footage: 7,240
Most expensive listing: $50,000,000, 30,000-square-foot, 6-bedroom home
Washington
Most expensive ZIP code: Mercer Island (98040)
Median list price: $2,745,000
Median square footage: 3,535
Most expensive listing: $37,900,000, 10,300-square-foot, 5-bedroom home
Washington, DC
Most expensive ZIP code:Washington, DC (20015)
Median list price: $1,446,225
Median square footage: 2,379
Most expensive listing: $4,985,000, 6,638-square-foot, 6-bedroom home
West Virginia
Most expensive ZIP code: Shepherdstown (25443)
Median list price: $612,500
Median square footage: 2,408
Most expensive listing: $5,200,000, 10,285-square-foot, 11-bedroom home
Wisconsin
Most expensive ZIP code: Green Bay (54304)
Median list price: $729,900
Median square footage: 1,883
Most expensive listing: $1,901,900, 3,169-square-foot, 4-bedroom condo/townhome/rowhome/co-op
Wyoming
Most expensive ZIP code: Wilson (83014)
Median list price: $6,960,000
Median square footage: 3,341
Most expensive listing: $24,900,000, 7,432-square-foot, 5-bedroom home
http://genebrazzell.com/wp-content/uploads/2017/02/Gene-Brazzell-MR-Realty-Real-Estate-Lexington-SC-300x139.png
0
0
Phil Whitehead
http://genebrazzell.com/wp-content/uploads/2017/02/Gene-Brazzell-MR-Realty-Real-Estate-Lexington-SC-300x139.png
Phil Whitehead
2023-12-02 12:37:58
2023-12-02 12:38:00
Laps of Luxury: The Priciest Neighborhoods To Buy a Home—State by State